Member Stories
Seeking Justice: How long would you wait?   Guest post from IJM Canada
Author: Lorianne Dueck, International Justice Mission Canada
The UN's World Day of Social Justice: The United Nations' (UN) World Day of Social Justice is annually observed on February 20 to encourage people to look at how social justice affects poverty eradication. It also focuses on the goal of achieving full employment and support for social integration.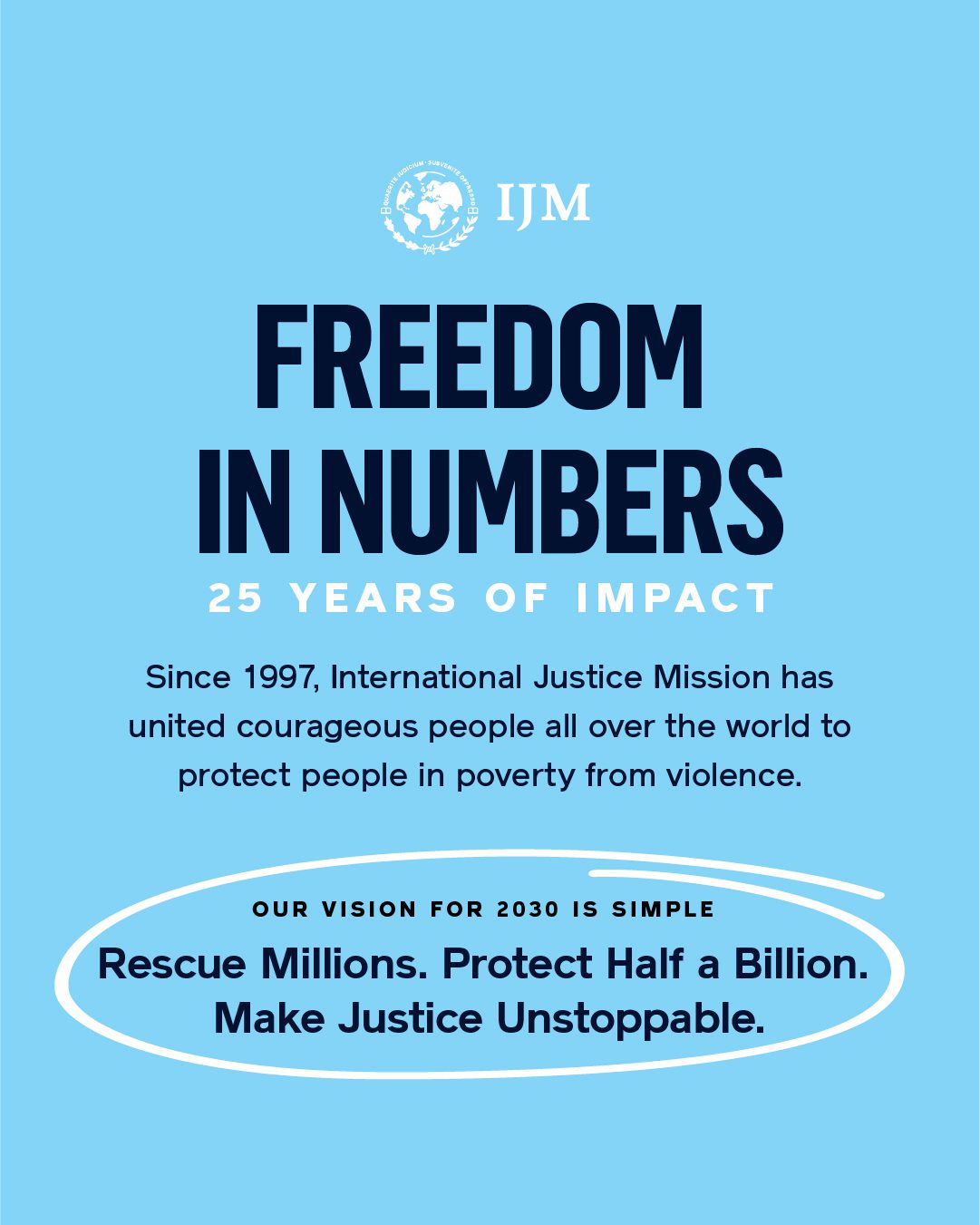 Today is February 20th, United Nations World Day of Social Justice. A day to prioritize conversations regarding social justice, poverty eradication, employment and diversity, equity, and inclusion. With the 20% increase in the number of people living in modern slavery, slavery, these topics are more important than ever.
In September 2022, the International Labour Organization, Walk Free and the International Organization for Migration released new data stating that fifty million people live in conditions of modern slavery, ten million more the 2016 global estimate. This means that nearly one of every 150 in the world is forced to work against their will or in a marriage that they were forced into.[i] Women and children remain disproportionately vulnerable to violence and slavery.
As Kentro members, we know these topics cannot be covered in 24 hours – they are ongoing, with as many applications as there are people in the world. For some, that can make days like today feel intimidating, even futile: how can I appropriately celebrate something so global in scope, yet deeply personal and political? With so much already set in motion, is there anything we could do in the next 24 hours that would practically help the 50+M people in slavery right now? Does today really matter?
Let's start with a different question:
How long are you willing to wait for something?
Seconds, minutes, hours, days, years… Sometimes we choose how long we wait, and it is merely our patience that determines how long we last. Other times we have no choice: the circumstances are outside of our control and what we need simply takes time. In every situation, however, we are waiting for something. There is something on the other side of the wait that is worth the time, money, energy, and emotions that will be used up in the process.
There are good things to wait for.
We stand by the toaster, watching the coils glow as we await our meal. We long for spring, almost as soon as the last leaf falls off the tree. We hold our breath, waiting for the colourful sunrise to overtake the horizon. We stand in the airport or on the train platform, scanning the crowd for the return of our loved one.
There are difficult things to wait for.
We are patient in the silence between a job application and response from the prospective employer. We work quickly through the paperwork and screenings required to become adoptive or foster parents, only to wait months for approval. We anticipate the paycheck that will help us survive the next two weeks of bills. We endure nine months of pregnancy, preparing for the arrival of a new life.
There are things we pray we will never have to wait for.  
Waiting for the diagnosis to come in, hoping that it is not the worst-case scenario you've imagined. Waiting for your moment to flee from a dangerous situation. Waiting for the immigration appointment to plead for the visa that will reunite you with family. Waiting in the emergency or surgery room, fearing you might return home alone. Waiting months on the list for a family doctor or therapist, anyone who will help you navigate the chaos within. Waiting for the verdict that will finally put your abuser behind bars. Waiting for justice.
How long would you wait?
---
International Justice Mission's Long Obedience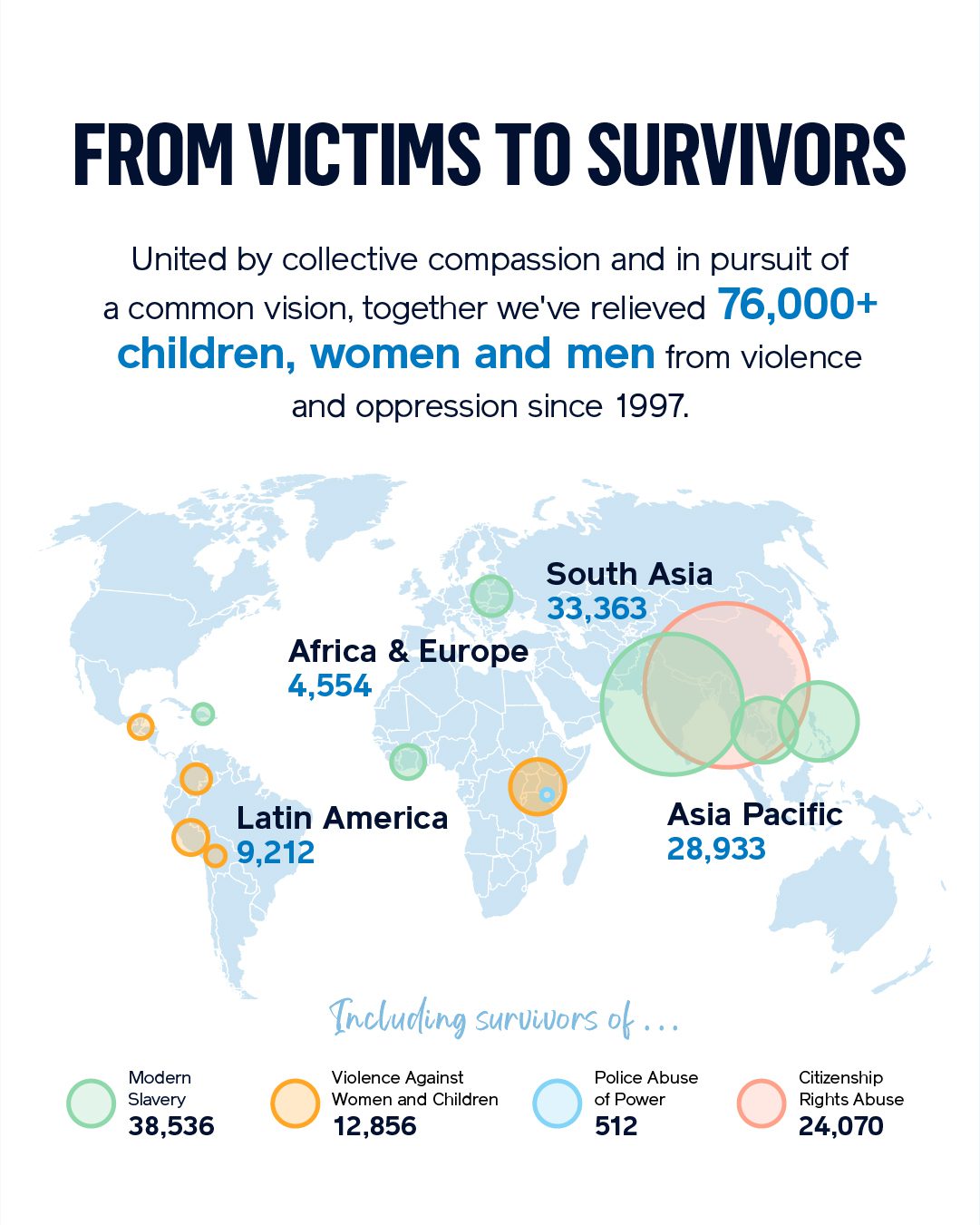 At International Justice Mission, we have been pursuing justice, restoration and protection for people experiencing violence for over 25 years. Our 2030 vision is to rescue millions, protect half a billion and make justice for people who are poor unstoppable. This often feels as audacious as the day we are celebrating today.
We accompany people, with a special focus on women and children, who are waiting. Waiting for rescue, waiting for justice, waiting for the aftercare that will help them reintegrate into society. How long have they been waiting?
People in poverty have been waiting far too long for justice.
Some gave up – the process was too hard, and they did not have enough support. In Bolivia, the number of cases that fail to enter the preparatory stage is 86%.[vii] Perhaps, the justice official had too many cases at once and simply didn't have the time to attend the hearing. The abuser still lives within the community because after a five-year court process, no verdict was reached. Due to lack of finances and energy, the survivor was unable to access health care services and remains scarred by the abuse. They are unable to recover from the violence that was committed against them or remain trapped in slavery.
The need is real. How can we reduce the wait?
Global experts, including International Justice Mission's global founder and CEO, Gary Haugen, have argued that poverty eradication is linked to the end of violence. Someone who is protected, living without fear, healthy in body, mind and soul, will be able to work and gather resources to build a life of love. However, if their resources are likely to be stolen, their bodies violated, their schedule and whereabouts restricted by violent employers – their default future is one of poverty.
Ending violence requires action that is both personal and systemic. Personally, it requires the removal of cultural assumptions and gender biases that have normalized exploitative practices and violence towards vulnerable peoples (e.g., children, women, migrant workers, minority groups). For systems, it requires a just enforcement of law that is both expedient and trauma informed. In other words, the justice system is functioning and results in just verdicts no matter the criminal's gender or position of power. Meanwhile, survivors receive comprehensive aftercare and support from healthcare and justice system providers as they begin their recovery. These are big changes – but like any audacious goal, they are built on commitment, partnership and consistent action.
---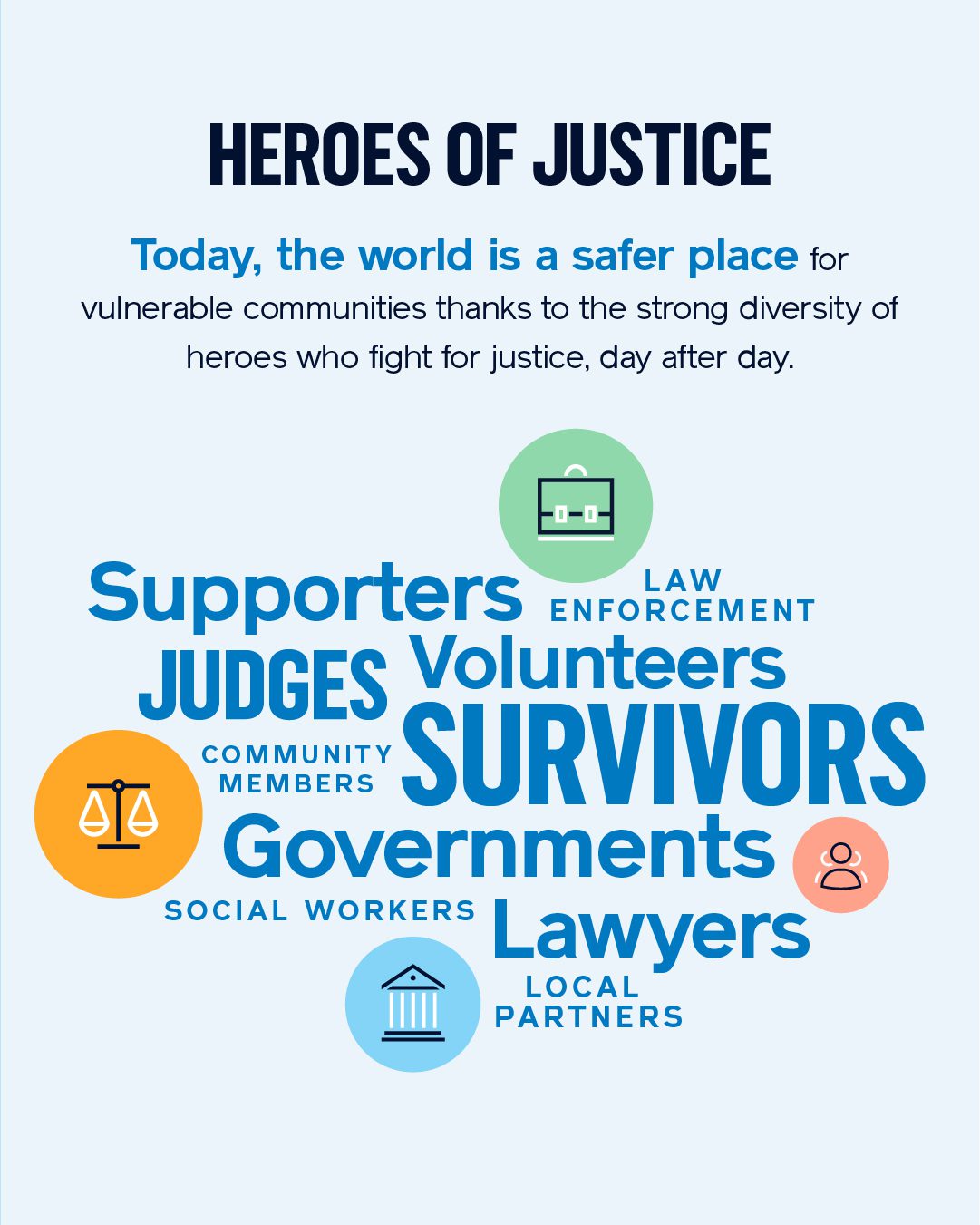 Praise God, we are not alone in the waiting.
The Apostle Paul asks, "Who hopes for what he can already see? But if we hope for what we do not yet see, we wait for it patiently."[viii] The Psalmist reminds us how God's unfailing love rests upon us as we put our hope in God.[ix]  And while we wait, we continue to take action wherever we can: marking the United Nations World Day of Social Justice is one of them.
No matter what organization you are a part of, we are all waiting for something. Let today be an encouraging reminder that there is a global community working towards and waiting in hope for the eradication of poverty and injustice. We are closer today than we were yesterday – and that is something to celebrate.
Here are some actions you can take – today.
REFERENCES:
[i] Walk Free, GLOBAL ESTIMATES OF MODERN SLAVERY, September 2022, https://www.walkfree.org/reports/global-estimates-of-modern-slavery-2022/.
[ii] Ibid.
[iii] International Justice Mission. A Performance Study of the Bolivian Public Justice System. July 2018. https://www.ijm.org/studies/a-performance-study-of-the-bolivian-public-justice-system.
[iv] https://www.cnn.com/2022/12/26/us/asylum-backlog-highest-record/index.html#:~:text=The%20overall%20average%20wait%20time,years%2C%20according%20to%20the%20group.
[v] "Human Rights Council Working Group on the issue of discrimination against women in law and in practice," United Nations Human Rights, Office of the High Commissioner, November 14, 2018, https://www.ohchr.org/EN/NewsEvents/Pages/DisplayNews.aspx?NewsID=23873&LangID=E
[vi] Ezequiel Barrera, "Solo El 5 % De Denuncias De Delitos Contra La Mujer Llegan a Juicio," La Prensa Gráfica, 2018, https://www.laprensagrafica.com/elsalvador/Solo-el-5–de-denuncias-de-delitos-contra-la-mujer-llegan-a-juicio-20180730-0097.html.
[vii] International Justice Mission. A Performance Study of the Bolivian Public Justice System. July 2018. https://www.ijm.org/studies/a-performance-study-of-the-bolivian-public-justice-system.
[viii] Romans 8:24-25
[ix] Psalms 33:22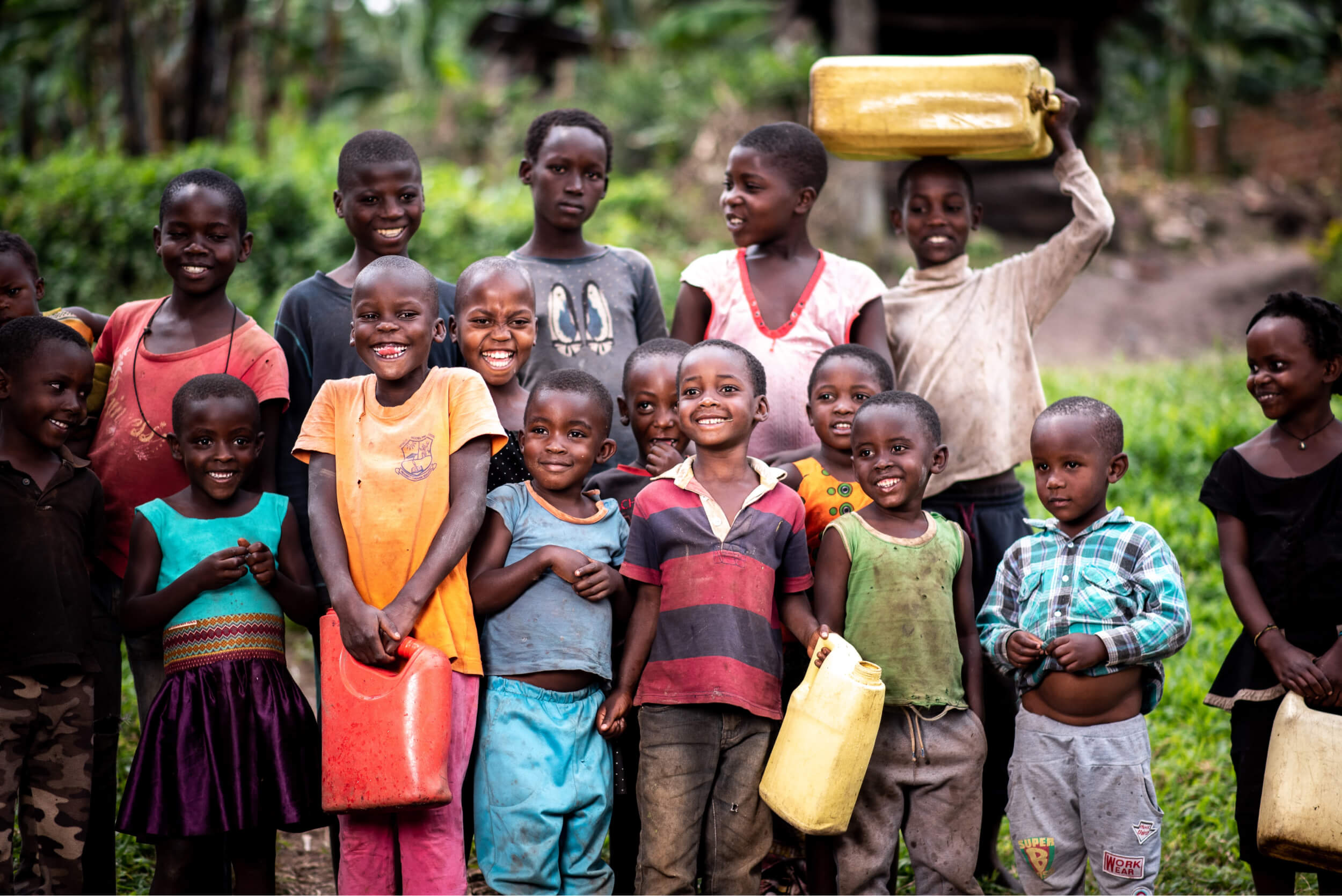 Collaboration is at the center
Organizations can't fight poverty on their own. Get connected. We are stronger together.